Welcome to 31 Days to Becoming a Foster Parent. This series is not going to actually train you to become a foster parent. I am writing this to help shed light on what it is really like to be a foster parent. I am going to give it to you real with no sugar coating.
I get asked quite often about fostering. There are a ton of misconceptions out there and maybe this can help clear things up. My intention is not to "sell" the idea of fostering or to romanticize it. I am going to be honest and real. Because if it isn't right for you, it is just going to bad for you, your family, and the child placed with you.
Let me start off by saying this system is flawed, no doubt about it. By spreading awareness and increasing knowledge I am hoping that we can all work together to help it. You may not want to foster at all, but if you have the time I encourage you to read along with us. Because someone you know might decide to foster and the more information you have the more supportive and helpful you can be for them.
So please join me for 31 Days to Becoming a Foster Parent. You can see just this series by clicking the tab at the top of the page or by clicking this button. Feel free to grab it in my sidebar if you would like to share.
I look forward to getting to know you better as we all share.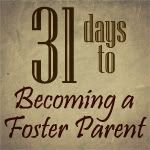 Here is a little information about me. My name is Kim. I have been married to my husband for 9 years. We have two biological children, 5 year old boy and a 3 year old girl. We foster young children (under the age of 5). We have had children returned to their parents that we knew shouldn't really go back, children returned that we knew was best for them, and are hoping to adopt a child we currently foster. So we have been all over the foster grid.
There are things I wish I knew when we started. Maybe that is why I am writing this. But I am passionate about caring for children. There are children all over the world in need of care and a voice to speak up for them. Everyone can do something to help a child in need. At the moment we are focusing on foster care, but strongly feel that any help any child gets is always good.