I always thought textures gave some images great pizazz. Textures can completely redefine an image. A texture can soften an image or give it more impact.
I honestly prefer a nice crisp shot, but I am really starting to dig textures.
I thought I knew how to do them by doing a search on google and watching some video on YouTube. WRONG! Last week I finished Kim Klassen's Skinny Mini Course (it's free, you should if you want to learn Photoshop Elements or Photoshop better). Now I know how to do a texture. It turns out I was doing it a way that doesn't produce the best results for what I wanted to do. I feel like an idiot.
So now don't be surprised if you see more shots with some texture added.
So here is my first shot on the blog taken by my new camera. I walked down to the end of my road where the ponds are and captured some lily blooms, frogs, and a dragonfly. It is so hot that I really am not taking as many pictures as I want to.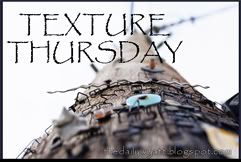 Linking up to Texture Thursday at The Daily Wyatt.