I have been getting asked a lot of questions about foster care and being a foster parent. That makes me happy that people are curious enough to even ask questions. But I have gotten a few not so supportive comments. Especially with Buddy going home this past weekend the comments have been coming about why I would expose my children to foster care?
The question has arisen about my children getting emotionally attached and hurt by foster children coming into and out of our home. It has been said that the effects on my children outweigh the benefits for the foster children.
First let me say that we explain everything about foster care to our children. They knew that Buddy was going to be with us for a short time. It ended up being 7 months. Which was in line with what the agency had told us. They had fun playing with him, got very frustrated with him at times, and now miss him at times. But they knew he was going to his mom. They saw the excitement he would have when he would get to visit her. They were there with him at night when he would cry wishing to be staying the night with his mom again. They would ask him how much fun he had on his visits with his mom. They got it. They get it.
Kids get it better than we do.
My kids would be very upset if Little Lady were to leave our house. We all would. She is our family. Period. We don't see her as a foster kid. We are reminded constantly that she is by birth mom visits, meetings, and paperwork, though. At night Cole will pray that we get to adopt her. She is their baby sister, not their foster sister.
So my kids are emotionally attached. They miss their playmate in Buddy, but they are happy that he is happy with his mom. Cole said he would be sad if he couldn't get to live with me. See? They get it.
As far as not "subjecting them" to something as powerful and helpful as foster care, well sorry we have a difference of opinion.
Do you let your kids help you pick out presents and wrap them for the Angel Tree at Christmas time? Do you let your kids donate food for the hungry?
Is it different if they actually see the faces of the afflicted they are helping? Would you take your kids to volunteer with you at a soup kitchen? Would you take your kids with you on a mission trip?
If you knew your kids would be safe, wouldn't you want to teach them about the problems of our world and how they can make a difference?
The first night Buddy was in our home he could not sleep. He just kept saying "This isn't my bed. I can't sleep here. This isn't my house." Cole climbed down from the top bunk and told Buddy that he could come up to his bed and sleep with him if it would make him feel better. That is a child learning to touch a life and make it better.
Now Buddy wasn't missing his birth mom and her house. Buddy was missing the foster family he had lived with for a year. Turns out some things were gong on there that put the well being and safety of the children in question. I was not privilege to the details. I just know a judge ordered that all of the foster children be removed from the home.
Foster care is a broken system. Foster homes can be just as bad or worse than the original homes the children were removed from. I know my home isn't one of those. I know that 2 foster kids are safe within my walls. They get love, support, nurturing, and structure.
Exposing my kids to that isn't bad, just different. I hope they grow up stronger and more giving because of it.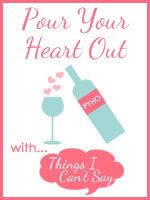 Head over to Things I Can't Say for more Pour Your Heart Out.