I honestly do not remember when or how Shell and I met online.  It might have been through Michelle at Flying Giggles and Lollipops, but I am not certain.  All I know is that we hit it off and have been reading each other's blogs ever since.  I remember laughing as she showed some rocking moves with her Dance Your Blogger Off.  I remember the prank she pulled on her husband when she used an ovulation indicator and let him think it was a pregnancy test – That was hilarious!
But I am so proud of my friend and the success she has made of her blog.  Shell also writes for Babble.  So I would love for you to go over to her blog and check it out.  She is honest, funny, and down to earth.  She is the mom of three little boys, she has to have a sense of humor.  By the way, her boys have Gorilla glued her couch before.  She's not in prison.  That's a good mom!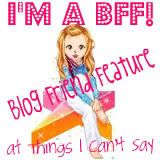 I have a post on her site today introducing myself and featuring me on her meme Blog Friend Feature.  You guys already know about me, but please head over to Things I Can't Say and look around her site to learn about her.
If you are visiting from Things I Can't Say, well welcome!  Please feel free to look around.  My blog is much cleaner than my house, so you have free reign to go wherever you'd like.